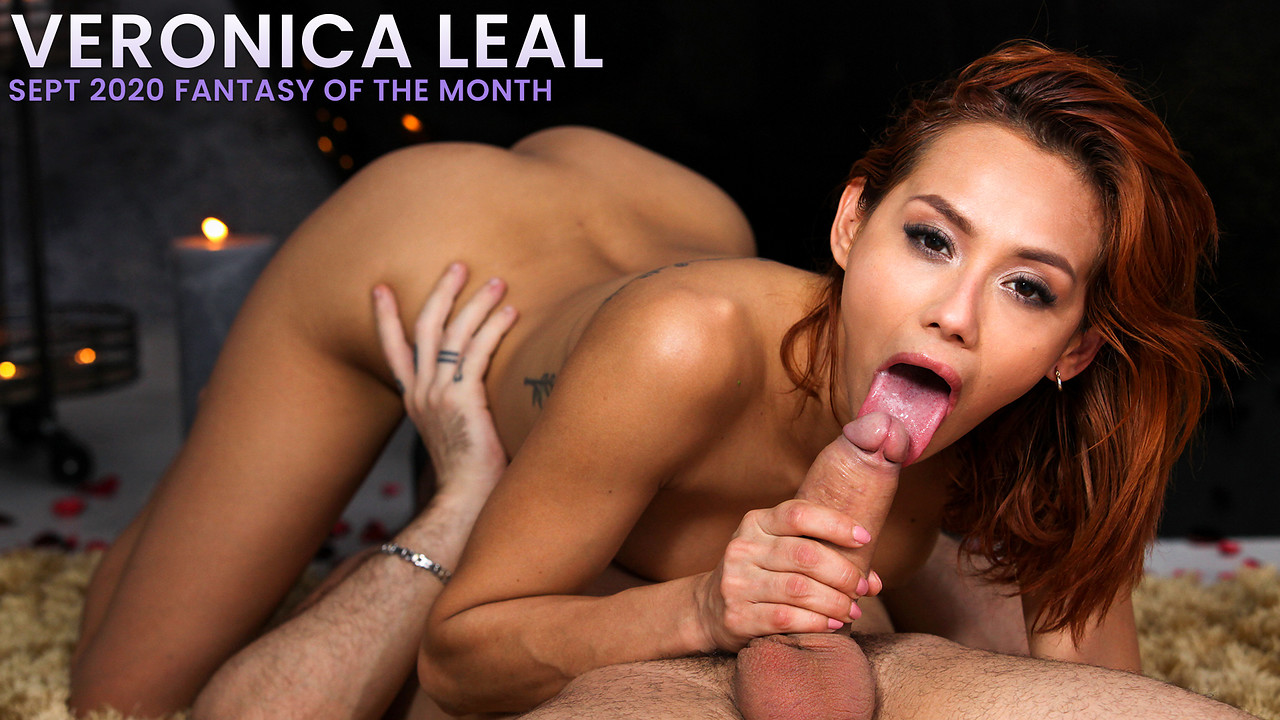 featuring


Raul Costa and
Veronica Leal.
Added On:
Sep 3, 2020
Description:
Veronica Leal has agreed to be interviewed about her fantasy. First she describes her normal sexual needs, which are a little bit rough and rowdy. Then she shares that her fantasy is to be taken slow and sweet in a romantic setting by an Italian man. Raul Costa is happy to help Veronica live that fantasy out.
Sharing a bubble bath, the two exchange deep kisses as Raul pus on his most smoldering looks. He pops some Champaign for Veronica and then urges her to lay back and relax as he rubs her feet with the slippery bubbles. Beckoning Veronica over, Raul takes her in his arms. Pressing her back to his chest, he slides one hand around to start working Veronica's clit. He gives her as long as she needs, rubbing away until Veronica's moans indicate that she has enjoyed her first orgasm.
Veronica may have fantasized about letting her Italian stud do all the work, but this girl loves the D way too much to be denied a blowjob when she comes face to face with such a fine cock. She gets Raul to his feet so she can wrap her hand around his shaft and stroke him as she's sucking him down. After indulging for as long as she wants, Veronica gets up and lets Raul take the lead once again.
On her feet with Raul crouched behind her, Veronica uses the edge of the bathtub for support. Raul gets up and slides home, finding it easy to penetrate Veronica's dripping twat. Once they find their rhythm, Veronica stands up straight and lets Raul take her straight to another climax.
They get out of the tub after that, with Veronica laying down on the bath rug and luxuriating in its softness like a cat. Raul takes another taste of her sweet musk before lifting one of Veronica's legs over his shoulder. Cradled between Veronica's thighs, Raul thrusts deep to enjoy her cream filled twat once again.
Veronica likes it from behind, so she gets on her knees to take Raul's cock doggy style. Slow and steady, Raul gives it to Veronica with the deep strokes she's craving. He keeps it up until Veronica makes it clear that she'd like to change the pace by having him roll onto his back so she can climb on top for a stiffie ride.
When Veronica turns around for a more intimate ride, Raul can't hold back another moment. He lets go and fills his redheaded lover up with a creampie. Veronica lifts off Raul's stiffie as he is still spurting, meaning that she's cum covered inside and out as her fantasy lovemaking comes to a close.